Ensure The Life And Stability Of Your Workplace Fire Protection System
Fire protection systems are critical to any commercial area or business site, especially in a drought- and fire-prone state such as Texas. Whether you oversee fire safety procedures for a large office building or a small local business, your system likely includes one or more fire alarms, heat detectors, and smoke detectors — all of which are crucial to keeping your commercial property safe.
At MLN Fire Protection, all of our safety crews are staffed with NFPA Certified Fire Inspectors and experienced specialists who have provided fire safety services to businesses in the greater Houston area since 2012. Following a thorough inspection of every commercial site, our workplace safety systems technicians will recommend the optimal fire protection system for your commercial building. Additionally, we provide installation, repairs, and general maintenance services for your fire safety, fire detection, and fire prevention systems. Keeping up with your workplace safety inspections not only ensures that you are complying with Texas law and OSHA state regulations, but also that you are keeping your employees, patrons, and building safe. Ensure that your fire protection system is operating correctly and your business is protected from potential harm. Schedule your inspection with MLN Fire Protection in Houston today, and ensure that your company's fire alarm, heat detector, and smoke detector systems are up to code.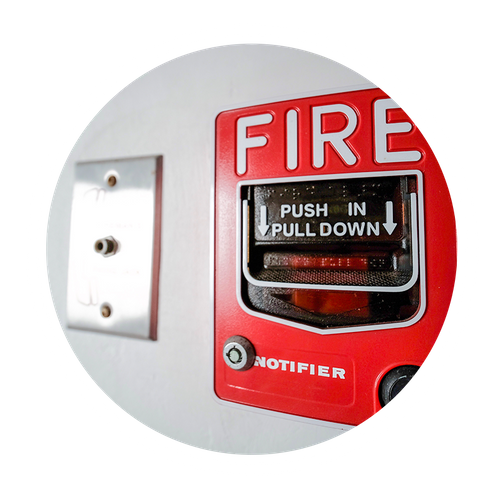 Our Fire Safety Inspectors & Prevention Experts Provide The Following Services:
Installation & maintenance of fire alarms & smoke detectors
Regular safety inspections to keep your fire protection system up to the standards of NFPA code & Texas OSHA regulations
Identification of potential fire risks & workplace safety hazards
Maintenance & repair of fire prevention and heat detection equipment as needed
Peace of mind that your fire protection equipment and fire prevention safety system is operating at peak performance
FIRE ALARM INSTALLATION, INSPECTION, AND SAFETY SYSTEMS MAINTENANCE
Your building's fire alarms and smoke detectors act as the first notification of a potentially hazardous workplace situation. If you lack any component of a fully functioning and reliable office safety system — including heat detectors, smoke detectors, and fire alarms — you're putting countless lives at risk — including the lives of your workers, patrons, and yourself.
It's critically important that you and your company, from employees to clients to inventory, can safely remain on and frequent your commercial property without ever having to confront the risk of fire. Our teams of fire safety inspectors and workplace protection specialists work diligently and tirelessly to install, inspect, repair, and maintain a wide spectrum of fire detection equipment and software products. From NFPA fire code requirements to all-encompassing OSHA-compliant fire protection systems, we have decades of combined experience in protecting and maintaining safety on hundreds of commercial and industrial sites in Houston. No matter the size of your business or the scope of your fire safety service needs, MLN Fire Protection has the expertise and industry-specific knowledge that your commercial enterprise's workers and clients can trust.
When It Comes To Fire Prevention, Your Safety Always Comes First!
Personal safety should always take precedence over all other elements of building fire prevention service and maintenance. After all, if a commercial building's safety inspector happens to find themself in harm's way, there's no possible way to protect all the other persons on the business site.
That's why here at MLN, our Houston team of fire prevention specialists always places the utmost importance on ensuring that everything we do will keep your tenants, staff, clients, and visitors safe from any possible fires, heat hazards, or harmful smoke pollution. The installation and maintenance of your fire alarms, heat detectors, and smoke detectors are arguably the most important step any workplace safety manager can take towards complete peace of mind, not just for you, but for every person who walks through the front doors of your local business.
Contact Us Today to Get Started
Fill out the form below to let us know how we can help.