Keeping Your Life Safety Systems & Fire Prevention Equipment Up To Date & Up To Code
Annual life safety inspections of your fire suppression system — required by the State of Texas — can give you the peace of mind that your residence or business is protected at any time. MLN Fire Protection in Houston has been providing certified fire safety inspections and life safety code assessments since 2012, ensuring that commercial buildings are in compliance with state law as well as NFPA codes and regulations. Our expertise as life safety inspectors has endowed us with the wide breadth of professional knowledge required to evaluate whether your fire suppression system is up to state and federal requirements. Our life safety building inspections can be performed conveniently and quickly, thereby preventing any interruptions to your normal business operations. Most importantly, our building safety inspections include a comprehensive risk assessment in which we identify any potential areas of future risk. These proactive assessments provide you with the foresight and information you need in order to determine which areas of your business or commercial building may be in need of maintenance, repairs, or replacement of safety equipment and related hazard-prevention systems.
Adherence to NFPA 101 Life Safety Codes is about so much more than following industry guidelines — life safety is, at its most basic, a fundamental component of keeping your employees, guests, patrons, and even your family safe from potential hazards such as fire, smoke, gas leaks, and more. By protecting what matters most, you can better protect those who matter most. to perform needed maintenance or repairs to keep your family, employees, and guests safe. This is crucial for keeping your home, business, personnel, and assets protected. Ensure that your fire protection system is up to date with life safety code standards, and ensure that your business stays open and running like it should. Schedule your annual life safety inspection in Houston with the MLN Fire Protection team today.
What to Expect From Our Life Safety Inspections For Houston Businesses & Commercial Buildings:

Allows you to perform needed maintenance or repair of fire safety, life safety, and other hazard prevention equipment and system components

Checks for compliance with annual fire safety guidelines and life safety inspection requirements in the State of Texas

Identifies potential areas of fire risk in your existing life safety systems

Ensures your fire suppression system includes all functional and necessary components, such as sprinklers and barriers

Keeps your fire prevention system up to national safety criteria and regulations, such as those dictated in the NFPA 101 Life Safety Code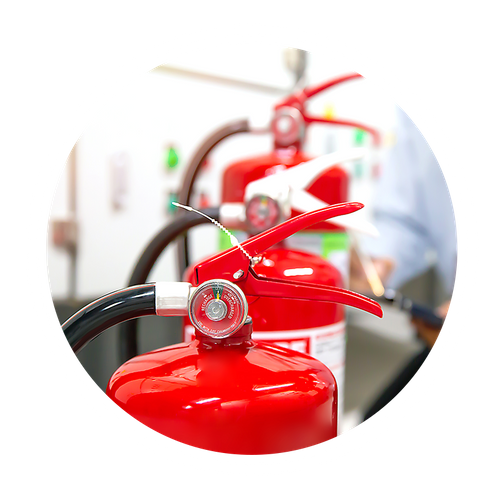 Fire Protection & Life Safety Inspections
True fire protection of your commercial building — not to mention its employees, customers, and various assets — begins by assessing the fundamental components of your commercial site's life safety systems. Without this critical, initial building block, your fire suppression and hazard prevention efforts are at risk of failure or, at the very least, at risk of significantly reduced efficacy. However, with an annual workplace safety inspection from MLN Fire Protection, you can ensure that your Houston property meets the standards for compliance with both state and national codes. With the help of our certified fire safety inspectors, you can obtain the peace of mind that these potential disasters are unlikely ever to become a reality.
By ensuring that your fire safety system is operating at peak performance levels, and that all equipment is doing so 365 days a year, you can feel confident in the safety and security of your entire commercial facility or building of business. MLN Fire Protection provides the professional, industry-specific expertise and certifications required to perform comprehensive safety inspections of businesses and commercial sites throughout the greater Houston area. Regular building inspections and commercial safety code compliance assessments are vital for protecting the primary components of any hazard-prevention system, as well as for minimizing the likelihood of equipment breakdowns, impairments, or malfunctions.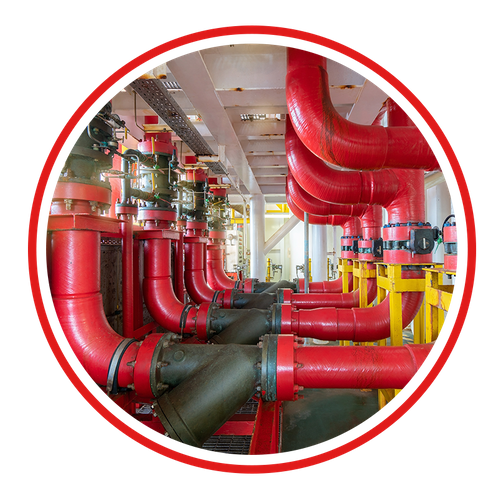 Why Get A Life Safety Inspection For Your Houston Business?
Life safety inspections are required on a federal level by the National Fire Protection Association, and typically need to be performed no less frequently than once per year. These critical safety inspections can help to uncover areas of risk or fire hazard within any number of commercial buildings or structures, as well as provide the business owner with the advance opportunity to perform needed maintenance or repairs on fire safety equipment including sprinkler systems, fire alarms, and more.

The State of Texas legally requires annual life safety inspections of all fire protection equipment and fire prevention systems for businesses, commercial structures, and industrial buildings of all types. By keeping your life safety system up to code and functioning optimally, our certified inspectors can help you avoid the temporary shutdown of any of your facilities, maintaining day-to-day business operations while still successfully fixing issues before they turn into hazardous problems. The MLN Fire Protection team in Houston is comprised of some of the most qualified and experienced licensed fire inspectors in the industry, and we are proud to play a major role in our local Texas communities when it comes to keeping people safe, and keeping those safe conditions a daily reality.
Can Fire Safety Requirements Be Changed? Is My Life Safety Equipment Still Up To Code?
The answer to the above two questions, simply put, is "Yes!" Fire suppression systems and other safety system components can certainly become outdated or fall out of accordance with commercial guidelines for building security. Today, fire safety codes are more stringent than ever before, making regular inspections and updates imperative to the overall safety of your building and all of its occupants. Don't skip out on this fundamental element of life safety by missing a single inspection for building security. The lives of your employees and guests quite literally depend on it. If it's been longer than one year since your Houston business received a state-approved fire inspection, call MLN Fire Protection today to schedule your building safety assessment.
Contact Us Today to Get Started
Fill out the form below to let us know how we can help.