FM/ECARO Suppression Systems
Clean Agent Fire Suppression System Services in Houston
FM-200 & ECARO-25 Fire Suppression System Services
MLN Fire Protection is your source for superior fire suppression system services in the Houston area. We work with two of the highest-quality, most cost-effective clean agent fire suppression systems available on the market today: the FM-200 and ECARO-25. Equipping your building with a clean agent fire suppression system can help you stop fires before they get out of hand, and prevent reignition. Since they don't cause water damage and are not electrically conductive, they are a great alternative to sprinkler systems for businesses like data centers, medical facilities, and telecommunications, which house electronics, archives, and other sensitive assets.
Turn to MLN Fire Protection for comprehensive installation, repair, and inspection services for FM-200 and ECARO-25 fire suppression systems in Houston and the surrounding 100-mile radius.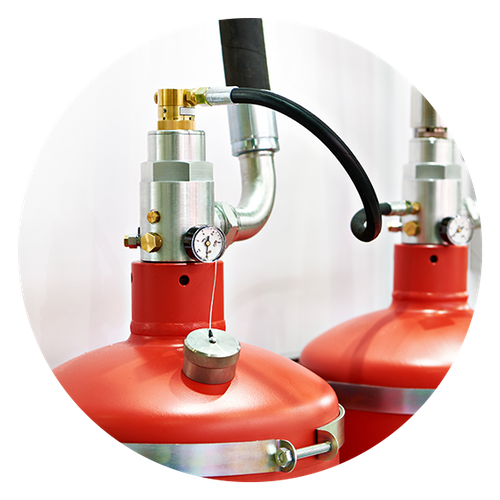 Benefits of Clean Agent Fire Suppression Systems:
Do not cause water damage

Post no danger to personnel
Have zero ozone depletion potential
Leave behind no residue
Effective for difficult-to-reach areas where water may not penetrate
Discharge in seconds with no clean-up and minimal down time required
Not electrically conductive
Require minimal storage space
Protect Your Assets With a Clean Agent Fire Suppression System
While sprinkler systems are a great way to protect people and structures from fire, they can cause devastating water damage for archives, telecommunications, computers, and other equipment. In fact, the water can be even more damaging than the fire itself.
Clean agent fire suppression systems are the perfect fire protection solution for businesses with large data storage, document repositories, precious artwork, and other high-value assets.
Comprehensive Fire Suppression System Services in Houston
We provide complete installation, replacement, repair, inspection, and maintenance services for FM-200 and ECARO-25 fire suppression systems in the Houston area. Our skilled and certified technicians will ensure that your fire suppression system is in compliance at all times according to the codes required by the State of Texas. Keeping your clean agent fire suppression system in proper working order is important not only in terms of legal compliance, but also because you don't want it to damage the sensitive assets that your fire suppression system is meant to protect.
Whether you're interested in installing an FM-200 or ECARO-25 fire suppression systems in your building or you'd like to get your existing clean agent fire suppression system inspected or serviced, we can help. Get in touch with us now to get started.
Contact Us Today to Get Started
Fill out the form below to let us know how we can help.